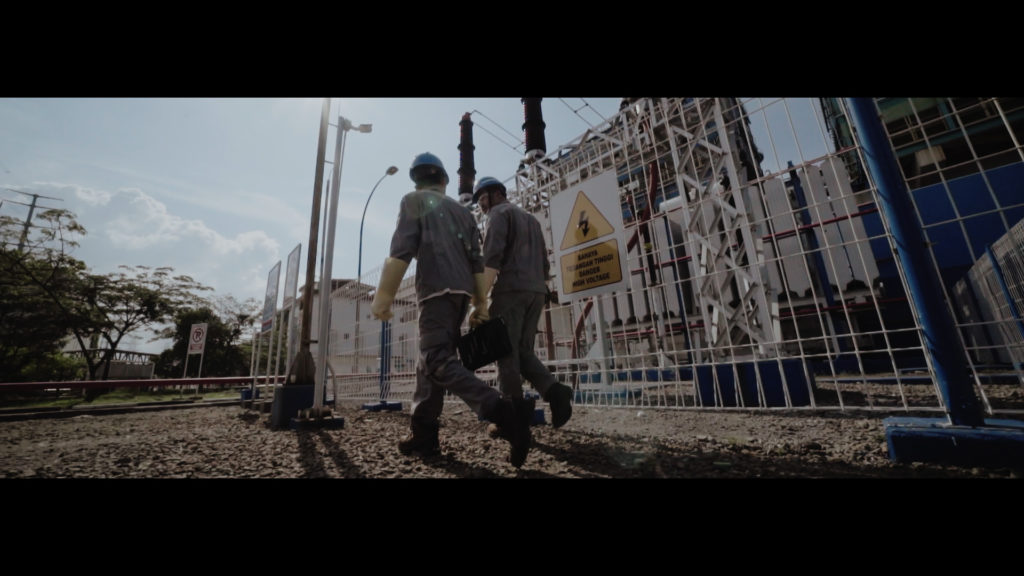 PROSEDUR KERJA PADA LISTRIK TEGANGAN TINGGI
Video Safety adalah jasa video profesional khusus K3L, Kesehatan, Keamanan, Keselamatan Kerja, dan Lingkungan, berbasis di Jogja, Indonesia
Client: Indonesia Power Unit Pembangkitan dan Jasa Pembangkitan UPJP Priok
PH: KOEN Cinema Indonesia
Simak video selengkapnya dan jangan lupa like, share, dan subscribe untuk mengetahui video berkualitas terbaru dan terupdate.
Work in high voltage areas is a job with a high risk
Pekerjaan dia area bertegangan tinggi merupakan pekerjaan yang memiliki tingkat bahaya yang sangat tinggi 

Risks that can be caused includes electrocution, explosion, fire, and noise
Resiko pekerjaan dapat ditimbulkan antara lain tersengat listrik, ledakan kebakaran, dan kebisingan

We can minimize the risks by complying any existing regulations before doing high voltage area work
Adapun upaya resiko itu bisa kita minimalisir kita harus mematuhi aturan sebelum melakukan pekerjaan
We must have a work permit from HSSE section which issued with work permit form
Kita harus memiliki ijin kerja dari K3 yang dibuktikan dengan terbitnya formulir ijin pekerjaan

The work is carried out by authorized and competent workers
Pekerjaan dilakukan oleh pekerja yang berwenang dan berkompeten

The workers must use Personal Protective Equipment (PPE) that suitable for the work
Yang berikutnya harus menggunakan APD (Alat Pelindung Diri) yang sesuai dengan pekerjaan

Such as high-voltage gloves because we work in high voltage area
Diantaranya kita harus menggunakan sarung tangan anti tegangan tinggi karena kita bekerja pada daerah bertegangan tinggi

Then use safety shoes, wear pack, safety helmet, glasses, and radio communication devices to communicate with relevant parties when doing work
Berikutnya menggunakan safety shoes, wear pack, safety helmet, kaca mata, dan radio alat komunikasi untuk melakukan komunikasi dengan pihak terkait selama bekerja
We do a full briefing before going to the location 
Kita melakukan briefing lengkap sebelum ke lokasi

We prepare the tools that we will use for the work
Kita menyiapkan alat yang akan kita gunakan

It must be tools with insulators so that we are electrocuted-free when doing work
Dimana alat-alat yang digunakan dalam pekerjaan harus berbahan isolator sehingga kita aman dalam melakukan pekerjaan

Install and prepare boundary or working perimeter as a caution sign of danger in the work area
Memasang dan menyiapkan rambu-rambu dan tali pembatas sebagai pertanda bahaya pada area pekerjaan

To localize the working area, so that only authorized worker can enter the job site
Fungsinya untuk melokalisir bahwa area tersebut sedang ada pekerjaan sehingga ga sembarang orang bisa masuk ke area tersebut 

When we found any abnormalities an work location, we have to immidiately report and communicate with relevant parties
Ketika menemukan kelainan yang harus kita laporkan maka saat itu juga harus kita komunikasikan ke pihak terkait

Report findings or anomalities that occur in the area to the relevant parties
Melaporkan temuana anomali yang terjadi pada area tersebut kepada pihak terkait supaya ditindaklanjuti untuk proses berikutnya
After finishing the work, we must clean the area and tidy up the equipment make sure nothing left behind
Setelah kita melakukan pekerjaan maka mebersihkan, dan merapikan kembali alat-alat setelah pekerjaan selesai dan memastikan tidak ada yang tertinggal

We hope that our willingness to obey the rules when working, especially in high voltage areas, 
Kita berharap dengan mau mematuhi aturan yang ditentukan saat bekerja terutama pada daerah bertegangan tinggi

We can protect our personal assets and company assets
Kita bisa melindungi aset pribadi kita dan aset perusahaan
SAFETY YES! ACCIDENT NO! INDONESIA POWER BISA!
Gimbal Setup
Shot with Sony A7s + Sony A7III + Samyang AF 14mm f2.8 + Sony FE 12-24mm f4 G + Sony Vario-Tessar T* FE 16-35mm f4 ZA OSS + Sony FE 28mm F2 + Sony Zeiss Distagon T* FE 35mm f1.4 + Sony Zeiss Planar T* FE 50mm f1.4 + Sony Zeiss Sonnar T* FE 55mm f1.8 + Zhiyun Crane V2 3 Axis Gimbal Stabilizer + DJI Ronin S
Tele and Macro Setup
Shot with Sony A7s + Sony A7III + Canon EF 70-200 f2.8 L IS USM II + Canon EF 100-400mm f4.5–5.6L IS II USM + Canon EF 100mm Macro L IS USM + Canon EF 135mm f2 L + Sony FE 70-200mm f4 G OSS + Sony FE 85mm + Sony FE 90mm f2.8 Macro G OSS + Manfrotto Monopod
Timelapse Setup
Shot with Sony A7s + Sony A6000 + Laowa 15mm f4 Wide Angle Macro + Canon 16-35mm f2.8 L USM + 20mm f1.8 EF + Meike 12mm f2.8 + Manfrotto Befree
Timelapse and Underwater Setup
Sony RX100 V + Underwater Housing + GoPro Hero 6 + GoPro Clamp Mount + DiCaPac WP-S5
Drone Shot with DJI Mavic Pro + DJI Mavic 2 Zoom in 4K 30P
Edited and Graded in Lenovo ThinkPad W520 with Adobe Premiere Pro CC Editing Software + Macbook Pro 2016 MLH42 + iMac Pro 2017 with FCPX
A Cinematic Insightful Storyteller. We create cinematic film with Light, Motion, and Action. A video production and cinematic filmmaker based in Surabaya and Yogyakarta. Professional in motion picture and cinematography projects
Video Safety adalah jasa video profesional yang bergerak khusus di bidang K3L, Kesehatan, Keamanan, Keselamatan Kerja, dan Lingkungan, yang berbasis di Yogyakarta dengan wilayah kerja di seluruh Indonesia
Tags
koen cinema indonesia, koen cinema, video company profile, video CSR, cinematic video CSR, cinematic company profile, Sony A7s cinematic, cinematic video, contoh video company profile, contoh video csr, contoh video profil perusahaan, jasa pembuatan company profile terbaik, jasa dokumentasi event, videografer surabaya, videografer yogyakarta, jasa videografi, prosedur kerja listrik tegangan tinggi